Example of 32 - Far too obvious, I used the word mouse too literally,
I needed to explore the use of media and thought process more...




First batch of 8 which stemmed from the previous 32 -
I felt it was too obvious and I didn't like what I had made, I needed to
develop my initial thoughts and ideas more...
I was given the word mouse, in which I needed to produce 32 images stemming from this word.
I created images which were obvious and did not really explore the word mouse that well, I needed to be more experimental, so I created another set of 16 images.
16 images


In these images, I thought about what a mouse is, what it smells, looks, sounds like and portraying this in different imagery and media. I enjoyed this more than the 32 images as it was a challenge to think of what media would work better to depict the theme or texture of the image I had drawn.
I felt that the bacteria image worked the best as I gained inspiration for this with the work of the fine artist Amy Gross, who creates organic pieces of work through the use of this installations of hair, shells, wool which have a fantasy and surrealist edge to them.
Amy Gross - Red Blooming Biotype
I approached the 8 images with a "what if" thoughts. For example:
What if the bacteria was a figure, a living breathing entity?
What if the bacteria was actually a plane? A place where beings did their shopping and lived everyday normal lives?
What if the bacteria was some form of food? A pizza in which a person is about to eat?
Using this thought process not only helped me to be more experimental with my work but also more innovative and aided me with taking different approaches to the media. For example, I asked, "what if I drew the bacteria with my left hand in continuous line? What would it look like?" - so I created this composition and it created a sketchy jagged and vivid image, through how the inks stained the grain of the paper.

I then further developed the 8 set of images into a sequence of 12 images which depicted a narrative. Again, I wanted to take an experimental approach to it, so I made the story simple as well as the art. The narrative, portrays the spreading of the bacteria, as the character goes to blow the spores, the spores infect the air around him and continue to spread as it covers the end frame.
8 images
8 images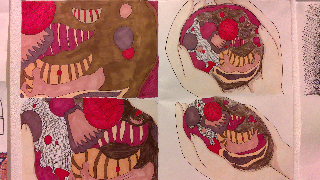 sequence 1
sequence 2


sequence 3